Episodes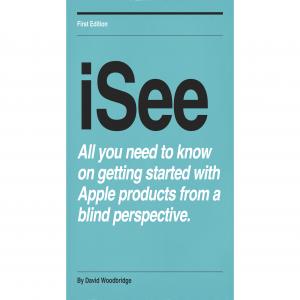 Monday Sep 07, 2020
Monday Sep 07, 2020
Orbit Writer Review/Podcasting notes
Product Name:
Orbit Writer.
Manufacturer:
Orbit Research.
Website:
https://www.orbitresearch.com/product/orbit-writer/
Email:
information@orbitresearch.com.
Brief Product Description:
The Orbit Writer is a compact and portable Braille input Perkins style keypad that can access a range of mobile and desktop operating systems as an actual keyboard or with their associated screen readers supports up to 5 Bluetooth devices and one UsB device.
Haptic feedback for settings, and features.
If you know the layout of the Orbit Reader 20 Braille notetaker and Braille display, then you know the layout of the Orbit Writer keyboard.
NB - Braille input keyboard, no Braille display or speech output.
Documentation:
Extremely well written.
Documentation in brf, doc, pdf, and html formats.
Website for documentation - https://www.orbitresearch.com/support/orbit-writer-support/
Dimensions:
16.0x 6.5 x 0.8 CM.
90 Grams.
In the Box:
Orbit Writer,
micro UsB cable,
And getting started in print and Braille.
Physical Description:
6 Braille input Perkins style keys top back face. 
Cursor pad inbetween and slightly below dot 1 and dot 4 keys with up, down, left and right in a circle, and select key in middle.
Dot 7, Space and dot 8 keys at top front middle face.
Lanyard port front middle edge.
Micro UsB port middle left edge.
4 round rubber feet on bottom corners.
Main Features:
Works with all smart phones and computers out of the box.
Light weight, and  Compact design to fit in a pocket or purse.
Quiet operation with positive tactile feedback.
Perkins style keyboard with cursor pad.
Replaces need to use touch screen.
Fast charging (less than 2 hours), 3 days of use.
Check battery strength.
Supports up to 5 Bluetooth devices, and 1 UsB device.
Adjust strength of Haptic feedback.
Adjust auto shut down time.
Attachment points for strap or lanyard.
Support for all languages on phones or tablets.
Battery/Charging:
3 days of operation.
Fully charge under 2 hours.
Charge from USB adapter (not supplied) or computer.
When power plugged in, short vibration,  when removed long vibration (whether unit is on or off).
Can be used whilst charging.
Rechargeable and non replaceable batteries.
When unit  gets down to 20% charge, 3 short pulses every 3 minutes.
If battery too low when turning on, unit will automatically shut down.
Confirm battery charge: press and hold Space+Up Arrow for 1 second.
1 short pulse if battery level between 0 and 20%.
2 short pulses if battery level between 20% and 40%.
3 short pulses if battery level between 40% and 60%.
4 short pulses if battery between 60% and 80%.
Long pulse if battery level is grater than 80%.
Auto shut down to save battery can be adjusted, default is 10 minutes.
Tips  for Initial Orbit Writer Operation:
Turn on/off - hold Down/Up for 1 second, short pulse for on, long pulse for off.
Pair to 5 Bluetooth and 1 USB channel.
Channel 1 (default) - Space+Left+1.
Channel 2 - Space+Left+2.
Channel 3 - Space+Left+3.
Channel 4 - Space+Right+4.
Channel 5 - Space+Right+5.
Channel 6 (UsB) - Space+Right+6.
If channel not previously paired, 3 short pulses
If channel paired: 2 short pulses
Pair channel: hold down command (Space+Left+ChannelNumber) for 1 second to feel short pulse (now in paring mode plus overwrite previous pairing if present).
In some situations, reconnecting via Bluetooth may take up to 10 seconds.
Connecting to a Mobile Device Example -
iOS VoiceOver:
Turn on Orbit Writer - Down+Up for 1 second (short pulse).
Place Orbit Writer in pairing mode (channel 1 is default if used for first time). Otherwise, press Space+Left+2 (3 4 or 5) for 1 second, short pulse.
Goto Settings, VoiceOver, Braille, and select Orbit Writer xx (were XX is the serial number of the Orbit Writer).
When paired, short pulse.
When iOS device is locked, Orbit Writer disconnects, 2 short pulses.
When iOS device unlocked, Orbit Writer will reconnect, 2 short pulses.
To turn Orbit Writer off, Down/Up for 1 second, 1 long pulse.
Basic iOS/VoiceOver  commands
The cursor navigation pad, Left or Right Arrows move VoiceOver cursor to previous or next item (1 finger flick left or right).  Select /perform  action command (1 finger double tap). Up or Down Arrow (1 finger flick up or down) move or select current VoiceOver rotor item.  Adding Space to the navigation keys performs Orbit Writer functions such as pairing mode or checking the battery.
Chord Commands (note - best way to remember these chord commands is there positioning in the 6 dot Braille cell in their relation to each other.
Space+1 or 4 - previous or next item.
Space+36 - select/perform action command.
Space+125 (h) - perform Home function).  When pressed twice, App Menu.
Space+23 or 56 - move to previous or next VoiceOver rotor item.
Space+3 or 6 - select or move current rotor item.
Space+235 (s) - Status menu -
Space+25 - Control Centre.
Space+46 - Notifications Centre.
Space+135 (o) - Scroll right).
Space+246 (ow) - scroll left.
Space+156 (gh) - VoiceOver Magic double tap to start/stop media or answer.hang up a call.
Space+124 (f) - find text command.
Benefits
Works with iOS, Android/Samsung, Fire OS, Mac, Windows, and Linux.
Supports up to 5 simultaneous and 1 USB connection.
Can be used as either an input keyboard (HID) or screen reader (SR) device..
Rapid switching between connected devices.
Supported screen readers include
iOS/Mac VoiceOver,
Android/Samsung/Amazon Talkback and Voice Assistant via Brailleback, and
Windows NVDA, JAWS, and Narrator (via BRLTTY).
Haptic feedback easily identified.
Particularly on iOs/VoiceOver, if user knows how to navigate with other Braille Input keyboards as found on a number of Braille displays, standard VoiceOver navigation can be considered the same.
Apple Watch OS 7 beta can use the Orbit Writer to navigate.
Screen readers that do not directly support the Orbit Writer as such, will still see it as an Orbit Reader 20 which will still enable the Orbit Writer to function.
Very light weight and quiet key operation.
To minimise sound of haptic feedback, 3 settings are available, soft, medium and hard pulse.
Space+Right to check current setting.  Space+Right held down for 1 second to change to next pulse setting which can be felt. 1 pulse soft, 2 pulses medium, and 3 pulses hard.
This is of particular importance if you don't want the haptic sound being heard by others or coming through in a recording.
To adjust auto shout down of unit, 4 settings are available, 5, 10, 20, and 30 minutes.
Space+Left to check current setting. Space+Left for 1 second to switch to next time out setting. 1 pulse 5, 2 pulses 10, 3 pulses 20, and 4 pulses 30 minutes.
Note - if iOS device goes to sleep, within the auto shut down period, it will reconnect when iOS device is awake.  If Orbit Writer being used for note taking, a possible suggestion to is to have the lock idle time of the iOS device greater than the Orbit Writer, then no need to reconnect.
Works well when using Orbit Writer with lanyard.
Mac VoiceOver detects Orbit Writer directly when plugged in as a USB device.  For Braille support, VoiceOver Utility, Braille, and Add Bluetooth Braille display and choose Orbit Writer.
Points to Consider:
Requires a Windows Pc to update the Orbit Writer.
Do not press down on the arrow keys, these keys are designed to push out from the edges. Pressing down fills quite hard whilst pushing out feels easy.
Be careful when holding down Space+Left+channel number to select desired channel for too long as after 1 second will put Orbit Writer in paring mode and previous pairing lost.
Testing remaining:
Android/Samsung, and Windows in particular with NVDA, JAWS, and Narrator.
Cost:
$99 US plus shipping.
Other Accessories:
Orbit Writer Carrying case: $14.95 US.
Leather Orbit Writer carrying case: $29.00 US.
Orbit Writer Lanyard: $3.95 US.
Extended warranty: $25.00 US.
Similar Products on the Market:
As far as Braille input keyboards are concerned with no Braille Display, there is not any similar product on the market.  However, a similar concept keyboard for navigating with VoiceOver does exist, the RIVO keyboard, which works with mobile devices, but is 4 times the price, and is harder to learn as it has no relationship to any other devices on the market.
Warranty:
Unknown.
Recommendations:
Vision Store should sell this product.
Initial Evaluation: September 3 2020.
David Woodbridge