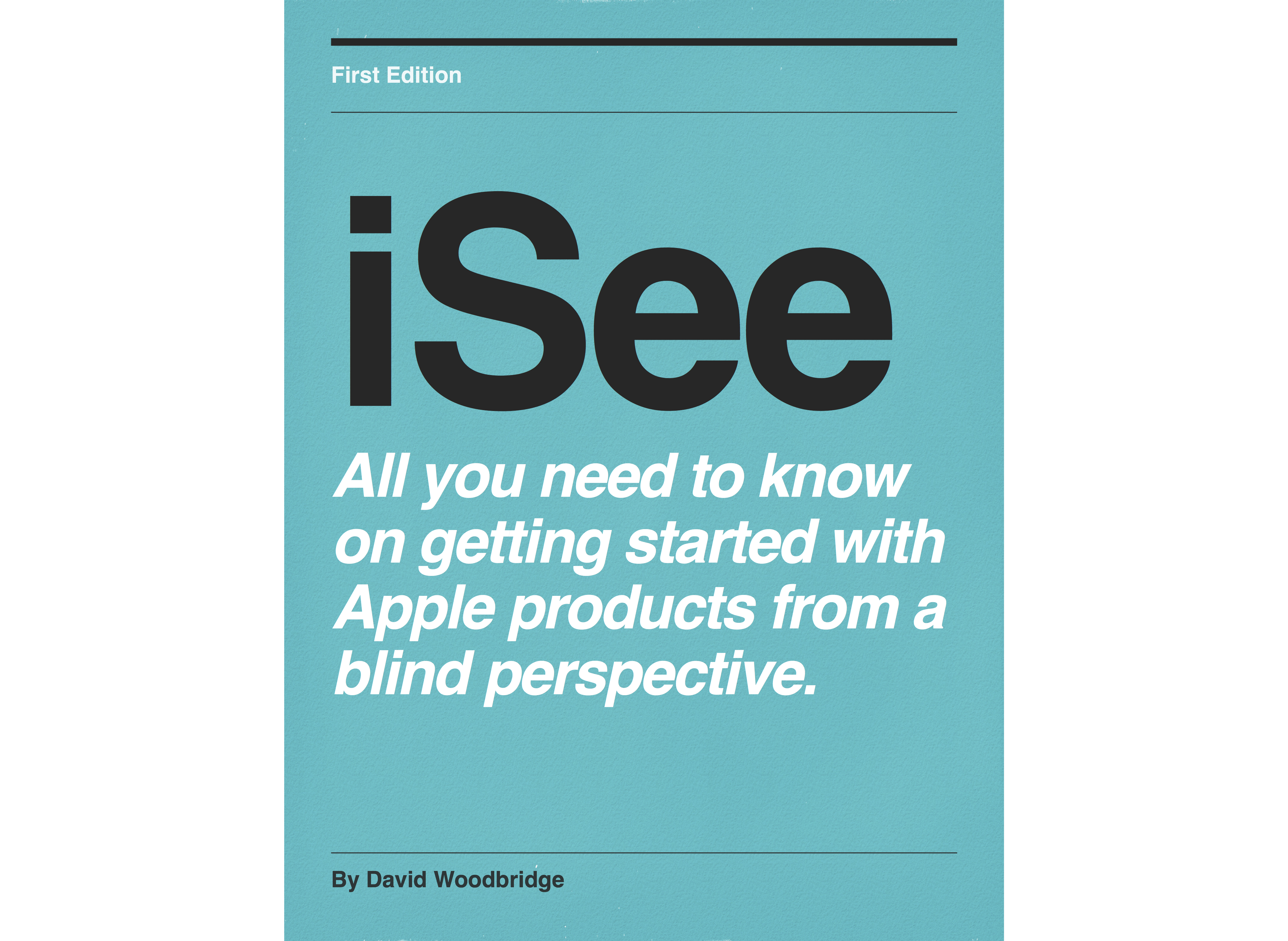 The reason why I use Apple Products, is that it is all well integrated with everything that I use. for both home and work: the Mac, the Apple Watch, the Apple TV, the iPad, the iPod touch, and of course the iPhone.
I have been using a Mac now for 15 years and iOS for 11 years. One thing that has always stood out for me with the Mac is that as a person who is blind, I can completely trouble shoot or re-install the OS completely independently without sighted assistance. My interaction with a Windows machine over these years when something has failed, has always meant I have needed someone with sight to let me know what was happening on screen or to assist me getting the screen reader up and going again. I know that with the latest Windows 10 that you can now kick in Narrator which is a great thing.
As I mainly use my Mac when creating content rather than navigating/reading content (which is more my iPhone), the Mac forms the basis of most of my work flows as it were.
As a poor speller, Siri comes to the rescue with "Spell Yogurt" which is a particular word that I always forget to spell when doing a shopping list, and yes, I used Siri to spell it just now.
Being able to ask Siri for directions when using my Mac to a location, then within Maps, share to my iPhone: ready to follow the directions when I leave the house.
I know that I can use Siri to cary out calculations, but having the Calculator app on the Mac also speak out its results is very handy for me as a screen reader user.
Quickly looking up a word within the Mac Dictionary app is always helpful, and then there is always Siri to get a definition of a word.
Siri on the Mac works well for launching apps, finding documents, and checking my Calendar.
Being able to dash off a quick email or Message on my Mac with voice dictation is a great benefit.
With FaceTime on the Mac, I can make and answer calls via my iPhone, and since I'm already on the Mac, can use Textedit or Pages to take notes whilst I'm chatting on the phone as it were.
I still appreciate the fact that when I plug power in to the Mac, a chime plays to let me know that power is on and my Mac is charging: no need to check the charging status.
My family and friends all use iOs devices, so rather than having to pick up my iPhone to send a Message, I use Message on the Mac to send and receive messages.
Our family uses Find My Friends to keep track of each other. Rather than having to get out my iPhone, I can check in the Find My Mac app to see where folks are.
As the Mac comes with the Mac App Store, most of the apps that I use on the Mac are from this source. I feel better protected, and the apps work reasonably well such as Twitter.
As I am a big fan of using iBooks on my iPhone, being able to read these same books on the Mac with VoiceOver is a huge plus.
The iWork suite works well with VoiceOver on the Mac, but what is great as well particularly for work is the fact that Microsoft Office works well: I Particularly use Microsoft Word and Microsoft Outlook on the Mac all the time these days.
My main source for social media is Twitter, I use Twitterific, most of the time live it running it in the background and pop over to it to check incoming tweets.
Universal copy between the Mac and my iPhone comes in very handy for copying phone numbers or URLS in either direction, and nothing could be easier than selecting copy on one device, and paste on the other.
Airdrop between my Mac and my iPhone or family's devices and my Mac works very nicely as well.
As I produce a fair number of instructional documents, some of which folks want in an audio format, using Add To iTunes (now Music)As A Spoken Track, comes in very handy for quickly converting a text document in to an audio file.
As I where away the hours when working on the Mac, rather than having to check the time manually, I have the Mac system clock tell me the time every 15 minutes so I can automatically keep track of time passing, and don't miss an appointment.
Speaking of appointments, I use Reminders and Calendar appointments on my iPhone which of course come across to the Mac as well.
When shopping, I use the Notes app on the Mac to make a check list of items to check off when I pick up the Note on my iPhone when shopping.
Adjusting the sound of the Mac with audio feedback I've always found handy for both VoiceOver and general sound output on the Mac. As well I find changing the sound source for VoiceOver itself via the VoiceOver Utility very straight forward.
I tend to use both Google Chrome and Safari on the Mac for slightly different purposes. I use Chrome for the client management system at work and Safari for reading articles on the web via the Reader mode which strips out the html code just leaving the text of the article to read.
As iTunes and now Music originally was developed for the Mac, I seem to have less issues with it from an accessibility point of view that I do when using iTunes on Windows. Consequently when there is an update to Music, I don't get as nervous that something may have broken from the screen reader point of view.
Speaking of Music, I have a number of Airplay speakers including a number of Apple TVs and HomePods around the house, depending on what I am doing and where I am, I just pipe the music to the appropriate speaker or Apple TV.
I certainly enjoy listening to Audio Described movies from the iTunes Store now TV app Store since Apple is making a considerable effort in making these available.
When my family goes and stays over night if we are visiting, I always take our family MacBook Pro which has my boys favourite movies on it plus the Apple TV so I can stream them from the Mac on to the TV via the Apple TV.
I seem to be given iTunes cards from family and friends on a regular basis. Like the iPhone, I can use the camera in the Mac to input the iTunes gift card straight in to iTunes.
Using my AirPods across all devices: particularly Apple Watch, iPhone and the Mac: means I can just use one bluetooth head phone for all my devices.
As I use an Apple watch, having my Mac simply unlock when I sit down to use my Mac is fantastic and much more convenient and faster than waiting for the screen VoiceOver to speak out the security prompt, and for me to type inn my password. There have been times when I have got a bit impatient and have started typing in my password before VoiceOver has started talking, only do find that I have sent the last person in Messages my password smile.
Of course, using one of my MacBook Pros with Touch ID to also unlock the Mac is a great benefit as well, if I'm not using my Apple Watch.
As I still enjoy the occasional game of chess, having the default Chess application in the Mac speak out its moves lets me enjoy a good game of chess, even though I mostly loose to the Mac.
One of the dreaded things I absolutely hate on Windows is that sometimes sound is muted, and there is no keyboard short-cut to get it back. On the Mac there is a short-cut and I've never not been able to get sound back on the Mac and consequently keep using VoiceOver.
I use preview on the Mac for quickly listening to audio files or checking a document, rather than having to launch an application to access the file.
Being able to check the status of what accessibility options I have turned on is quite useful, particularly when using other accessibility options other than VoiceOver.
Having the Mac speak out system messages or read what is on the screen through a keyboard command is again extremely handy.
Since I use some different bits of hardware in the house to control lights, lamps, check the indoor and outdoor temperature, and check who is at my door: rather than me having to pick up my iPhone to access these different systems, I can use my Mac as well. In particular, having the Home app on my Mac as well as my iPhone makes things a lot easier.
Besides having the Home, Maps, Messages, Notes, Reminders, and TV App on my Mac which I also use on my iPhone, the News and Voice Memo apps are also extremely useful. News for keeping up with the latest news, and Voice Memo when I want to quickly record a note or customers training session.
Having my documents on the cloud, means that all my documents are on all my other Macs etc when I need to access a particular device.
The inbuilt Mac keyboard commands to jump quickly to the Applications, Documents, Home, Utilities, and Downloads folders makes jumping around the Mac a breeze.
VoiceOver on iOS and Mac OS have similar gestures and keyboard commands which makes transferring from one to the other a breeze, plus from a training point of view, very consistent and easy to explain and re-enforce ways of navigating. In some ways, you are using one screen reader for mobile or desktop.
I forget sometimes how many different ways VoiceOver allows me to navigate: main keyboard commands, Lock VoiceOver keys, Quick Nav, numeric keypad, and of course the trackpad.
The sounds that VoiceOver on the Mac users to let you know what is going on is one of those things that when you don't have it, you really miss it when I use Windows.
Using screen curtain to blank the screen so that people can't see what I am doing when I'm reading a report on the train or reading a confidential document at work is extremely valuable.
Having a training mode in a screen reader to teach you how to use its basic functions is very important for new users.
When I am not using my MacBook Air Or MacBook Pro with the inbuilt trackpad, I can still use my Magic Trackpad with my iMac.
AS far as I know, VoiceOver is still the only screen reader that allows the launching of applications from its own Keyboard commander. All the applications that I use regularly on the Mac have their own VoiceOver Keyboard Commander short-cut such as K for Skype, G for Google Chrome, A for Amadeus Pro, M for MarsEdit etc.
Speaking of the only thing that Voiceover does, Alex (found on iOS as well), is still the only speech synthesizer that breaths (up to 200 types of breaths) when it is speaking: particularly useful when converting a document to audio using the Alex voice.
I still find VoiceOver on the Mac the easiest screen reader to install a Braille display. For UsB, plug it in and VoiceOver will detect it. With a Bluetooth Braille display, choose the Braille display you want to use and off I go.
As the cursor movement on both the Mac and iPhone are the same with VoiceOver when navigating: cursor is to the left or right of the character when moving: I don't have to double check myself when switching between mobile and desktop.
No matter if I am typing in Messages, Notes, Mail, Pages, Safari etc, it its always nice to know that my typing is being spelled checked: did I mention I was a poor speller.
The strong integration between the Mac OS and VoiceOver, means that I never have an issue with the screen reader not working, hanging, not working with the video card, loosing its authorisation etc: it just keeps working.